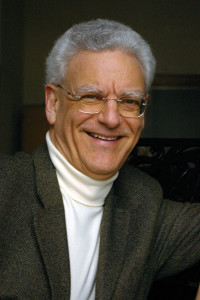 David Aronson, a native of New York, holds degrees from the Manhattan School of Music and the Crane School of Music, SUNY Potsdam. He began his career as a vocal coach and accompanist in New York City, followed by engagements as assistant conductor with the opera companies of Kansas City, Miami, and Lake George, New York. After four years as coach, assistant chorus master and conductor at the Zurich Opera, Mr. Aronson began a nine-year appointment as Kapellmeister of the Municipal Theater of Lucerne, where he conducted over forty operas, operettas, and ballets. During this time he assisted Herbert von Karajan at the Salzburg Festival.
In 1991 Mr. Aronson began a twenty-four year association with the Vienna State Opera. It was here that he assisted many of the world's foremost conductors, including Zubin Mehta, Riccardo Muti, Christian Thielemann and Seiji Ozawa. As conductor the State Opera's acclaimed children's opera program, he led over one hundred performances, both on the main stage and in the innovative Children's Opera Tent on the opera house terrace. A highlight of his tenure was conducting the world premiere of Violeta Dinescu's Der 35. Mai.
A seasoned continuo player, Mr Aronson has performed at the pianoforte and harpischord throughout his tenure at the State Opera and was afforded the opportunity to tour to Israel, Italy, China, Korea, Singapore, and Japan as well as record with the Vienna Philharmonic on Deutsche Grammophon. A particular honor was being chosen as Ricardo Muti's designated continuo player for his acclaimed productions of the Mozart-da Ponte operas, a position he held for five years.
Mr Aronson has had multiple engagements with the European Sinfonietta of Gibraltar and the Schönbrünn Palace Orchestra in Vienna, and has also guest conducted at the Darmstadt State Theater and the European Music Festival in Stuttgart. Most recently Mr. Aronson served as music director of Teatro Barocco's acclaimed productions of Le Nozze di Figaro and Cosi fan Tutte in the Baroque theater of Schloss Laxenburg near Vienna, garnering the following review from Austria's Der Standard:
Conducting from the fortepiano, David Aronson unleashes a gamut of emotion, from passionate rage to tender love. He delights with wild accompagnato and nuanced secco recitatives. A wonderful musician!
As a respected opera coach, he has worked with many of the world's vocal luminaries, including Walter Berry, Placido Domingo, Luciano Pavarotti, Bryn Terfel, Renee Fleming, Neil Shicoff, Elina Garanca and Anna Netrebko, to name a few. Furthermore, Mr. Aronson's international stature as an accompanist has led to numerous recital engagements throughout Europe, Australia, Israel, and the United States. Aronson and his wife, the soprano Sylvia Greenberg, have together performed their unique song-recital program, Hausmusik, on three continents, as well as recording it for the Telos Label. The program consists of songs composed by Bruno Walter and Erich Wolfgang Korngold, both of whom were earlier residents in the Aronson's current Viennese home.
In addition to his position as teacher of conducting and opera coaching at the Music and Arts University of Vienna, Mr. Aronson and his wife have, for over twenty years, held master classes at institutions and programs throughout the world, including the University of Miami's summer music program in Salzburg, the Schleswig Holstein Festival, the Musica Mallorca Festival, the University of Michigan, the University of California at Los Angeles, the Manhattan School of Music, Cleveland Institute of Music and the Melbourne Conservatory.
In 2018 David Aronson made an auspicious American debut, conducting Strauss' Ariadne auf Naxos at Philadelphia's Academy of Vocal Arts. In 2020 he conducted the well-received Gianni Schicchi and Buoso's Ghost at Michigan Opera Theater in Detroit.
Press for Ariadne
David Aronson led a stylish, propulsive reading
Opera News
David Aronson molded an elegantly-shaped performance with notably translucent playing from the strings and winds.
Philadelphia Magazine
David Aronson leads AVA's orchestra in a shimmering reading of the intricate score. He achieves the full power of Strauss's richly textured orchestrations without ever overwhelming the singers…among the cleanest playing I've heard from the AVA Orchestra, particularly at a first-night performance.
Broad Street Review